About Us
Gunton Woodland Burial Trust is an independent non-profit making charity, registered with the Charity Commissioners as a Charitable Incorporated Organisation. Our registration number on the Charity Commissions Website is 1156621.
Our main aim is to offer burials that are open to everyone who wishes to be buried closer to nature, who wants to contribute to the creation of a new woodland and the donation of any surplus funds to local good causes.
If you are interested in our natural approach we can offer you the full range of burial options backed by the professional services needed to ensure that your loved one will be laid to rest with the respect and dignity they deserve.
They appreciate the warm welcome they receive from our friendly experienced staff and the quality of the services they provide to them.
Local people like the idea of being laid to rest close to the area in which they lived and where their family and friends can visit afterwards in a peaceful, environmentally friendly setting.
Some are attracted to the idea of entrusting their remains to a non-profit making charity that charges reasonable prices.
Many appreciate our environmentally friendly approach because it links with their concern about issues such as climate change or the use of non-renewable resources in some modern funeral practices.
They also like our aim of creating a new woodland and the reintroduction of once common wildflowers.
Community minded people like the idea that after we have paid off our loans we will be using our financial surpluses to support local good causes.
It is for these reasons that the popularity of our services we offer is growing as more families become aware that a new choice is now open to them.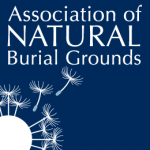 We are a member of the Association of National Burial Grounds and follows its Code of Conduct. Following the Code ensures that we look after your interests at all times and carry out our responsibilities effectively.
Institute of Cemetery and Crematorium Management